Do you want to makeover your living room? Is money stopping you from getting started? If you said yes to both of these questions this post is perfect for you. I am going to show you 11 no-cost ways to makeover a living room without spending any money.
F'real, you can makeover a whole room for zero dollars. Let me show you how.
1. Rearrange your furniture
I probably do this at least twice a year. Ask my hubby about how I am always surprising him with a new living room layout.
If you grow tired of the look of a room, like I do after awhile, rearranging the furniture is one easy and no cost way to makeover a space.
This is my living room before and after I rearranged the furniture and did a makeover of this space.
2. Rearrange your home accessories
This is another thing I do throughout the year. My husband will tell you things are always moving around. I will normally do this when I am adding something new to the space.
Switching around the accessories gives a room an instant makeover without costing you a penny or a lot of time. If you have a fireplace, a good place to start when switching around home accessories is at the mantle. Mantles are focal points, changing the decor there makes a big impact.
3. Switch out your home decor seasonally
I am not one to decorate for each holiday throughout the year. But I am one for making subtle home decor changes for seasons. This gives you 4 times during the year to give a room a mini makeover.
A good way to do this is to have a small seasonal decor bin that you pull from to makeover a room.
Lauren over at Blesser House does a lovely job decorating her home for the seasons. The above image is from here Summer Home Tour.
4. Give clutter the boot
Clutter can build overtime and without you noticing its growth. Clutter negatively affect the way a room looks. By simply purging the clutter can makeover a space.
Reducing clutter will make a room feel bigger, cleaner, and more inviting.
This is the stunning living room of  Rachel at Shades of Blue Interiors with no clutter and just the right amount of home decor.
5. Repurpose something
Common everyday home items can become new home decor or furniture. Kitchen bowls and trays can be used to create interesting vignettes on a coffee table. I repurposed some old molding in a rustic coat rack.
If you are having trouble thinking about something you can makeover into home decor, that's alright. Read this post for some clever ideas.
6. Rob from another room
One way to makeover a room is by stealing from another. If you are making over a living room don't be afraid to pull home furnishings from other rooms.
Furniture, artwork, or home accessories in one room can be brought into any room to makeover the space. An unused bedroom dresser can become a TV stand or sofa table, as an example.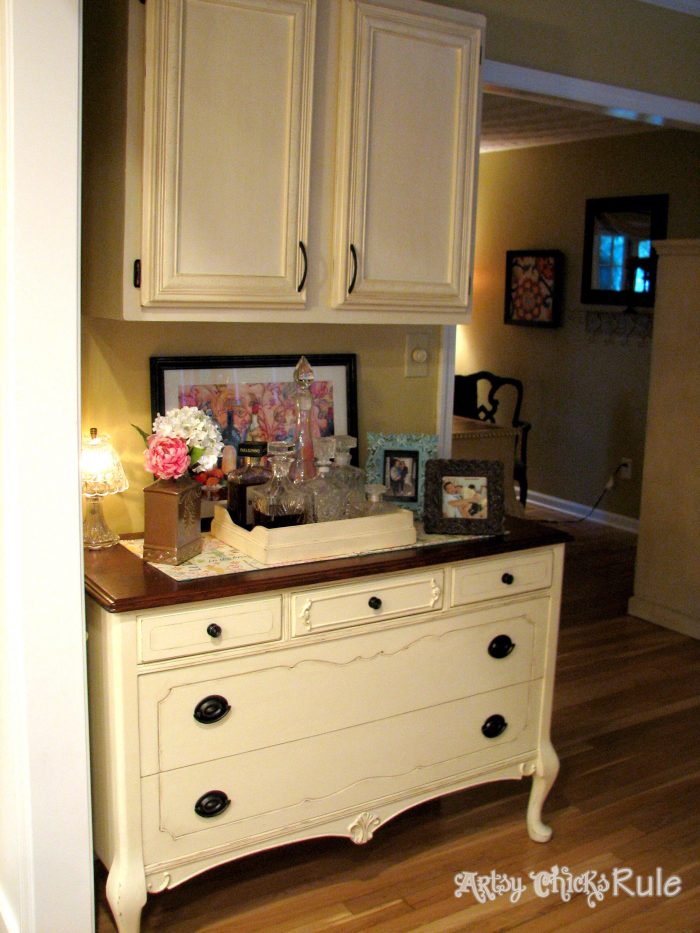 Nancy from Artsy Chicks Rule turned an antique dresser into a liquor cabinet.
7. Deep clean the room
Cleaning any room will do a lot to make a room look better and made over. Spending a few hours cleaning from floor to ceiling will freshen and make the space feel more inviting.
So before spending money on a living room makeover, clean your home.
8. Arrange books in a new way
Do you have books in your living room? If so, by simply rearranging and styling the books in a new way will give the room a makeover.
If the books are on a bookcase you could arrange them by color. Or if you have decorative stacks of books switch out the books for new coffee table books with interesting covers.
Check out this stunning styled bookshelf by Jenna Burger Design.
9. Change out throw pillows
Throw pillows add style, color, and pattern to your living room. Changing around the pillows on a sofa can quickly makeover the room. Layering and mixing the pillows in a different way helps freshen up the style of your sofa.
If you want to inexpensively change the look of the pillows without needing to buy new ones, have two sets of pillow covers. Pillow covers are like pillowcases for your bed pillows. Pillow covers go over a pillow insert and only cost a few dollars each.
10. Fresh flowers
Planting flowers around the outside of your house looks beautiful and adds to the curb appeal. If you have flowers growing outside bring some fresh cut flowers into your living room for a no-cost makeover.
Flowers add a connection to nature, color, and texture.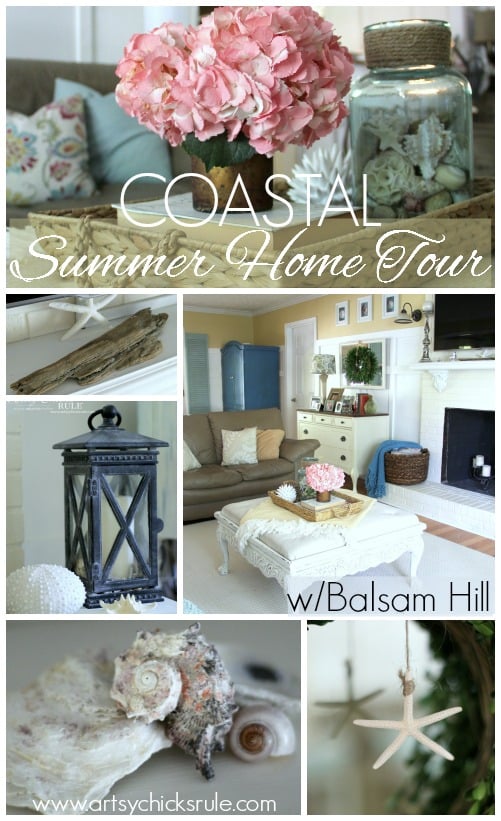 Hydrangeas are beautiful and Nancy from Artsy Chicks Rule used them in her Coastal Summer Home Tour perfectly as an example of how lovely flowers are inside the home.
11. Open the curtains
Natural light makes any room look stunning. When at all possible after making over your living room, leave the curtains open.
Natural light brightens a room, making the space more beautiful and inviting.
Told You It's Possible…No-Cost Makeover
See, you can makeover your living room without spend money. Now that you know these 11 simple and easy ways to makeover a living room stop waiting to get started.
Get started TODAY! Finally transform your living room and fall in love with your home again.
11 No-Cost Ways to Makeover a Living Room